Marysville Housing Commission
Vicksburg Halls
Vicksburg Halls (HUD Project No. MICH 161-1) is owned and operated by the Marysville Housing Commission in partnership with the U.S. Department of Housing and Urban Development. Its occupancy has preference to qualifying elderly persons and persons with disabilities.
Our complex consists of 132 apartments:
114 - One Bedroom (View Floorplan)
7 - Walk in Shower/Accessible
7 - Fully Handicap Accessible
4 - Two Bedroom
Community Amenities include:
Smoke-Free Facilities
Community Room
Library/Game Room
Exercise Room
Dog Run
Community Pavilion
Outdoor Games
Resident Computer Lab
Laundry Room Facility
Elevator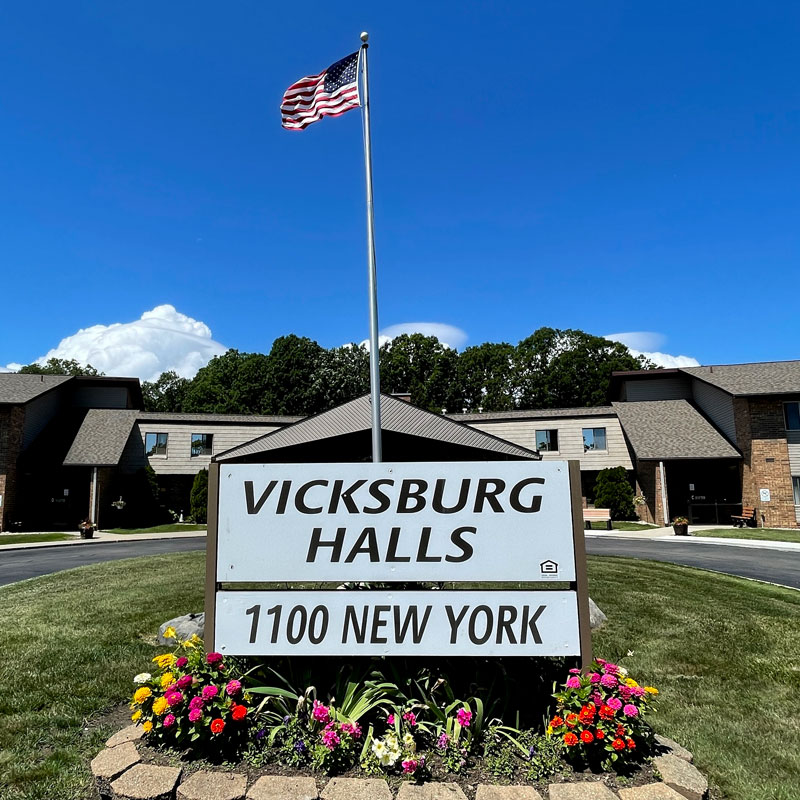 Our Mission:
It is the mission of the Marysville Housing Commission to provide safe, sanitary and affordable housing for low income elderly and persons with disabilities in a cost efficient manner and within an environment free from discrimination.

Board of Commissioners
Appointments to the Housing Commission are made by the City Manager. Members of the Commission are appointed for a term of five (5) years and serve without compensation. The Quality Housing and Work Responsibility Act of 1998 requires at least one recipient of housing assistance to serve on the Commission. If you wish to be considered for appointment, express your interest in writing to the City Manager at 1255 Delaware Ave., Marysville, MI 48040.
The Commission meets the third Thursday of each month from January thru December. Meetings begin at 10:00 AM and meet at various locations please below.
W. Deem Boldyreff
President
---
Ryan Wesler
Vice President
---
Rick DeNardin
Commissioner
---
James A. Dewey
Executive Director
---
Devan LaDuke
Property Manager
---
Dawn Smith
Property Manager Assistant
---
Steve Czeiszperger
Maintenance
---
Tina Herriman
Building Assistant
---
2022 Marysville Commission Board Meetings
10am
*Marysville City Hall
1255 Delaware Avenue , Marysville MI
**Vicksburg Halls
1100 New York Avenue, Marysville MI
2023 Commissioner Calendar is coming soon.
DECEMBER COMMISSIONER MEETING HAS BEEN CANCELLED.  NEXT MEETING WILL BE HELD ON:
Thursday January 19, 2023 at 10:00 Am located at Marysville City Hall Building
Marysville Housing Commission
1100 New York Avenue
Marysville, Michigan 48040

Office Hours:
Monday-Thursday 9AM - 3PM
Friday 8AM-12PM

OFFICE WILL BE CLOSED ON DECEMBER 23-26, 2022 AND JANUARY 2, 2023

HAPPY HOLIDAYS AND A BEST WISHES FOR 2023!